Riverdance Tickets
Riverdance is an Irish step dancing show that was first performed in 1994. It combines the traditional music of Ireland with step dancing to form a vibrant theatrical performance. Riverdance features professional dancers including several Irish step dancing champions. After the success of their first show they toured the globe to perform in many countries. Not only did this theatrical performance revive the traditional music and dance of Ireland, but it also brought it into the media spotlight and made it popular worldwide. Riverdance features themes of Celtic mythology and Irish history, and eloquently presents it through music, dance, and theatrics. The 20th anniversary world tour of Riverdance has taken the fans by storm. Directed by John McColgan, Bill Whelan as the composer and produced by Moya Doherty, the increasing demand for Riverdance tickets suggests that the tour is already a huge hit.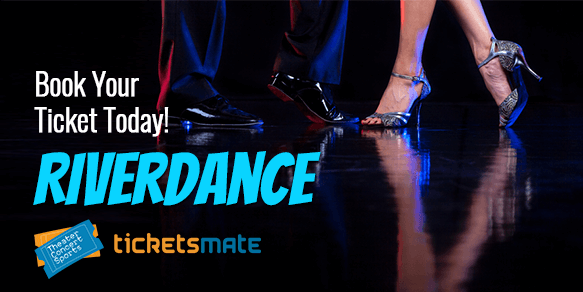 The way this show became famous is a legend in itself. The first performance of Riverdance was actually a filling act during the interval of Eurovision Song Contest. However, the audience loved it and showered the performers with tremendous applause. One of the songs featured in Riverdance called Love Is All Around was also number 1 on Irish singles chart for some time. The show also includes other hit songs such as Reel Around The Sun, The Heart's Cry, and Caoineadh Cu Chulainn. Bill Whelan composed the music for Riverdance, and it is directed by John McColgan. Moya Doherty is the producer of The Riverdance Show. Bill Whelan's music was played by Anuna, a Celtic choral group, and the RTE Concert Orchestra. The first stage performance was choreographed by Michael Flatley. A full-length version of this show was first staged in 1995 at the Point Theatre in Dublin. Riverdance was performed for five weeks and it turned out to be a major success. Colin Dunne became the lead dancer after Michael Flatley left, and stayed the show till 1998.
After captivating various cities across Europe, Riverdance hosted a show at the Radio City Music Hall in New York. It was received with much applause in America as well. The Riverdance Show went on Broadway in 2000 for a year. They performed at the Gershwin Theatre and introduced a lot of new artists including lead dancers like Pat Roddy and Eileen Martin, and Brian Kennedy and Tsidii Le Loka as singers. It also features artists from Russia, America, and Spain. The Dublin based production company for this show is called Abhann Productions. All of its production companies are named after popular Irish rivers. The three production companies that are currently active are Boyne, Corrib, and Foyle. Boyne Company is touring across the USA and Canada this year. The Corrib and Foyle companies are staging performances in the UK and Ireland, respectively, in 2010.
Even though, step dancing is a traditional Irish dance form, it still captivates people around the world. It stands unique in that the artists are only allowed to use their legs to express themselves through dance, while their body and arms remain stationary most of the time. The Irish step dancers usually wear tap shoes while performing, which are categorized into soft and hard shoes. Riverdance artists wear traditional Irish costumes and dance to Irish traditional music and jigs. Irish step dancers perform with a group or perform solo dances throughout the show. The Riverdance Show is divided into several acts each of which showcases its own flavor of music.
They will be staging their farewell tour this year to mark the 15 years of performances around the globe since they presented The Riverdance Show at Point theatre in Dublin. If you enjoy watching step dances or like Irish jigs and music, then Riverdance can prove to be a goldmine of entertainment for you. We offer a variety of Riverdance tickets including some extremely cheap deals. So, go ahead and get your tickets now!
Riverdance releases 25th Anniversary Music Ahead of its Newcastle show
Riverdance is all set to hit the road for its 25th anniversary tour. But as it is nearing the celebration it has rolled in another pleasant surprise. The Irish dance sensation has released music from the show. The Riverdance 25th Anniversary: Music From The Show album arrived on December 6. The original score won a Grammy. Now Bill Whelan has re-recorded the gripping and powerful 'Riverdance' soundtrack.
The dance group surfaced 25 years ago when Michael Flatley brought it to the public eye. It started off as a short dance act but today is a mature theatrical production with skilled dancers. Riverdance has given many impressive sold-out performances to international audiences and has become a worldwide sensation. Completing its quarter of a century Riverdance will be celebrating it with a 2020 tour. Get Riverdance tickets to enjoy their spectacular shows as they celebrate 25 years of excellence.
Riverdance Cast
Aislinn Ryan.
Breandan de Galla
Colin Dunne.
Jean Butler.
Joanne Doyle.
Michael Flatley.
Padraic Moyles.
Pat Roddy.
Riverdance Ticket Prices
The average price for Riverdance Tickets start from $98. The minimum get in price is $44 for Riverdance Tickets at the Fred Kavli Theatre At Bank Of America Performing Arts Center, Thousand Oaks. For a detailed look at ticket prices and amazing discounts, visit our website.
Name
City
Date
Average Ticket Price
Get In Price
(Minimum Price)
Riverdance
Modesto
25-Jan-22
$211
$170
Riverdance
Modesto
26-Jan-22
$110
$53
Riverdance
Modesto
27-Jan-22
$105
$53
Riverdance
Reno
28-Jan-22
$114
$63
Riverdance
Reno
29-Jan-22
$116
$63
Riverdance
Reno
30-Jan-22
$118
$63
Riverdance
Thousand Oaks
16-Feb-22
$110
$44
Riverdance
Thousand Oaks
17-Feb-22
$111
$52
Riverdance
San Jose
25-Feb-22
$98
$53
Riverdance
San Jose
26-Feb-22
$101
$54
* Ticket Prices vary on hourly basis.